January 2020
The 11 Best Flavored Lubes That Will Make You WANT To Give Head
Hundreds and hundreds of Amazon reviews don't lie.
Article from Women's Health By Korin Miller January 17, 2020
Oral sex is pretty freaking amazing. But one might argue that it's more enjoyable for the recipient than the giver (personally, I disagree, but ya know…). Good news either way: If genitals aren't your favorite, er, food on the menu, there's a fix for that: flavored lube.
Yep, the holy powers at be know that sometimes mortals need a little extra somethin' somethin' to make head happen often. Flavored lubricants—which tend to be either fruity, chocolaty, minty, or just sugary-sweet—not only make the experience tasty and thus more pleasurable for your mouth, but they also bring extra moisture to the party. Anyone who's ever experienced dry mouth mid-BJ knows that that's important.
And if you're just looking for a little lickety-spit during foreplay (see what I did there?), flavored lube is your best friend for that, too. Let your partner squirt some around your inner thighs and clean it up with their tongue…then return the favor.
Excited? Then do yourself and your taste buds a favor and shop these best flavored lubes on the market right now. They've received tons (in some cases, hundreds) of glowing reviews from very ~happy~ customers on Amazon, so you know they're good. Buy one, buy five—tandem taste test, anyone?
1
ALOE CADABRA NATURAL FLAVORED PERSONAL LUBRICANT IN PINA COLADA
Average rating: 4/5
Number of reviews: 2,615
Reviewer rave: "This is the best quality lube I've ever used. It's just plain weird how good it tastes. My boyfriend is also really picky about lubes. Anything too slick just doesn't do it for him. Most lubes are unusable to us because he dislikes the sensation and doesn't feel enough of me. But this is a lube we can actually use!"
6
ALOE CADABRA ORGANIC PERSONAL LUBE FLAVORED PEPPERMINT
Average rating: 4.5/5
Number of reviews: 135
Reviewer rave: "It's very thick in consistency, but sort of melts down as you rub it together in your hands. It's very slippery, but yet absorbs very well into the skin. You don't have to reapply that often, unless you want to. It definitely lasts longer than I originally thought it would, but it doesn't hurt to reapply. There's so many wonderful things I can say about this product! it has a wonderful peppermint tingle, which I was hesitant about at first, but it feels very natural and only enhances the stimulation. It smells light and feels refreshing. It doesn't make my skin feel gross after it's been sitting for a while. It makes me feel very clean actually! It tastes great too!"
Click Here to Read Full Article
October 2018
The 7 Best Flavored Lubes That Don't Taste Like Crap
Hundreds and hundreds of Amazon reviews don't lie.
Article and Image from Women's Health By Korin Miller Oct 18, 2018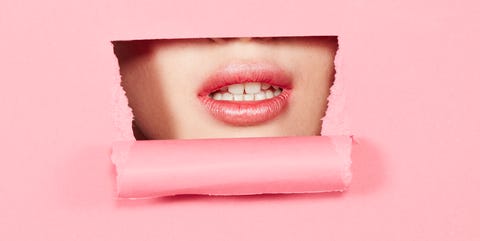 Luxy Images Getty Images
No matter how you slice it, oral sex is pretty freaking amazing. But given that genitals are probably not your favorite flavor on the menu, that's where flavored lubes come in. These tasty products can make the experience way more palatable.
Of course, flavored lubes aren't just there for taste. They can also help add moisture and wetness, taking your oral sex game to the next level. With that in mind, these are the best-rated flavored lubes on the market right now. Try one or several to make your next sex session a little tastier.
1
ALOE CADABRA NATURAL FLAVORED PERSONAL LUBRICANT IN PINA COLADA
Average rating: 4/5
Number of reviews: 1,487
Reviewer rave: "This is the best quality lube I've ever used. It's just plain weird how good it tastes. My boyfriend is also really picky about lubes. Anything too slick just doesn't do it for him. Most lubes are unusable to us because he dislikes the sensation and doesn't feel enough of me. But this is a lube we can actually use!"
Click Here to Read Full Article